6,412 active users!!
---
With Large Practical Observations; Delivered in Several Lectures (1766 edition)
Author: John Brown of Wamphray

Hardback ... $24.00 USD ($49.00) You Save 51%


This commentary has been called, "perhaps the best exposition of the Epistle yet to be found" (J.W.C., cited in Johnston's Treasury of the Scottish Covenant, p. 341). Charles...
---
Full-featured Sunday school for all ages
Speaker: Ken Ham

Multi-Volume Book Set ... $229.00 USD


This three-year Sunday school program covers the entire Bible in chronological order. Answers Bible Curriculum can be started or paused and restarted at any time throughout the...
---
Paperback ... $13.99 USD


The belief that the Church has replaced Israel has grown in popularity and vehemence over the last few decades. That the Church is somehow the new "Israel" is at odds with...
---
Paperback ... $11.99 USD


Christians should always be ready to present the reason for the hope that we have in Christ. However, this is completely different than attempting to win people with arguments and...
---
By Popular Vote
Author: John D. Reuther

Paperback ... $1.50 USD


Learn about the bad man with the good name, but most important, learn about the great exchange of Barabbas for Christ and Christ for His people. In this study we seek to...
---
Bible Believer's Study Course
Author: David Walker

Paperback ... $9.95 USD


The Bible Believer's Study Course is a resource to help Christians better understand the Bible. It is based on the KJV and arranged as a workbook. Lessons include: Introduction to...
---
Compiled By: C. Benjamin Dill

Paperback ... $10.00 USD


BASIC BIBLE TRUTHS is a teaching manual developed by Charles Benjamin Dill, Senior Pastor at Lighthouse Baptist Church Dickinson, Texas. Brother Dill has long been successful in...
---
Paperback ... $12.95 USD


A highly readable book in Dr. Sexton's typical, first-rate style, from which pithy observations, advice, and challenges abound. While so many pastors today strive for a...
---
The Book of the Revelation Exposited and Explained
Author: Rev. Herman Hoeksema

Hardback ... $27.20 USD ($32.00) You Save 15%


This essay-style commentary on the book of Revelation is written from the Reformed, amillennial viewpoint. In clear, concise language, the author sets forth the comforting truths...
---
Companion to the 13-DVD set
Author: John Snyder

Paperback ... $20.00 USD


This is the Daily Devotional Workbook designed to work in conjunction with the Behold Your God: Rethinking God Biblically 13-DVD Set. More info available at BeholdYourGod.org...
---
Paperback ... $10.99 USD


Four verses in the ninth chapter of Daniel are arguably some of the most important verses found anywhere in Scripture, related to prophecy. If we are to understand what God has...
---
Author: Pastor Robert J. Sargent

Paperback ... $16.00 USD


Thirty-nine practical lessons taken from the lives of men and women in the Bible. The Apostles of Jesus Christ. Well-know OT Characters. Little-known Characters....
---
Bible Doctrines simply explained
Author: B.A. Ramsbottom

Paperback ... £2.50 GBP (£2.95) You Save 15%


This book has previously appeared with the title Bible Doctrines - explained for children. It has been remarked (by editors and bookshop managers, among others) that its scope...
---
Produced By: Calvary Memorial Church

Paperback ... $4.95 USD


This is the book "Bible Symbols" that Pastor Kent Kelly compiled after many years of Bible study. It is about 5'"x7" and fits in your shirt pocket or pocket book very easy. This...
---
The Kind of Man that God Uses Today
Author: John D. Reuther

Paperback ... $1.50 USD


In this important study see how Boaz walks in the Law of the Lord and looks like the Son of God. You will find important truths about the Christian and God's law, Christ, and...
---
Book of Exodus Hebrew/English Interlinear & Commentary vol#2
Compiled By: Dr. James M. Phillips

Multi-Volume Book Set ... $45.00 USD


This is Volume number 2 of Dr. James M Phillips' Hebrew/English Interlinear and commentary of the book of Exodus 13:17- . This is the Syllabus that Dr. Jim used in his Hebrew...
---
Book of Galatians Interlinear Translation
Compiled By: Dr. James M. Phillips,

Paperback ... $35.00 USD


This is another of Dr. Phillips interlinear translations.It contains 308 pages of text.Each word from the Greek text is translated into English and identified and classified...
---
Book of Revelation Interlinear Translation
Compiled By: Dr. James M. Phillips

Hardback ... $85.00 USD ($100.00) You Save 15%


This Interlinear Greek to English translation was Dr. Phillips Doctor of Bible languages, Doctors Thesis. It contains 656 pages of Greek to English interlinear translation,...
---
A Guide Book for New Christians
Published By: Dr. Ben Pierce

Paperback ... $15.99 USD


Born Again Basics is written as a Guidebook for new Christians. Much like basic training and boot-camp where soldiers are trained for the tasks ahead; the first few months and...
---
A Handbook for Pastors
Author: Dr. Rod Bell Sr.

Hardback ... $12.95 USD ($14.95) You Save 13%


This book is a wonderful resource for pastors and teachers covering topics such as: Pastoral Leadership Counseling Finances in the Church Conducting Services Special Occasions...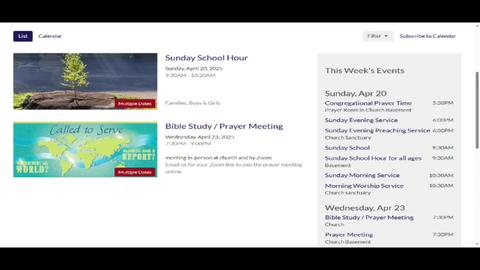 Cloverdale, British Columbia
Cloverdale Free Presbyterian Church B.C.