4,670 active users!!
---
Hardback ... $18.00 USD


The spiritual memoirs of Marion Veitch (1639-1722) and her husband William Veitch. Set in the times of the Scots Covenanting Movement, William Veitch was a field preacher, exiled...
---
C.T.Studd's daughter
Author: Edith Buxton

Hardback ... £4.50 GBP (£5.00) You Save 10%


SECOND HAND BOOK IN GOOD/VERY GOOD CONDITION
---
Hardback ... £2.90 GBP


SECOND HAND BOOK IN GOOD/ VERY GOOD CONDITION
---
The autobiography of George Muller
Published By: Westminster Literature Resources

Hardback ... £18.99 GBP (£19.99) You Save 5%


George Muller is renowned for his remarkable prayer life. His orphanges catered for hundreds of children and were operated by the power of prayer and faith. An amazing life story...
---
Author: Thea B. Van Halsema

Paperback ... $12.95 USD


"The most lively and readable biography of Calvin available in English," stated Roger Nicole. "Though it reads as smoothly as a well written novel," writes J.H. Kromminga, "it is...
---
Containing Illustrations of the History of the Reformation in Scotland; with Biographical...
Author: Thomas MCrie

Hardback ... $14.00 USD ($24.00) You Save 42%


Iain Murray, in his stirring introduction to Cunningham's Historical Theology writes, "The third event marking the commencement of this spiritual movement was the publication of a...
---
The life and times of Henry Cooke
Author: J.L. Porter

Paperback ... £8.99 GBP


A biography of the champion of Irish Presbyterianism. An excellent read with many interesting and facinating details
---
Aggressive teenager and paramilitary prisoner
Author: Rev. Thomas Martin

Paperback ... £6.00 GBP (£7.99) You Save 25%


The story of the conversion of Thomas Martin a prisoner in the Maze prison Northern Ireland. Thomas is now a minister within the Free Presbyterian Church in Lisburn
---
(1904)
Author: Robert Demaus (Edited by Richard Lovett)

Hardback ... $29.00 USD ($59.00) You Save 51%


William Tyndale was the first man ever to attempt translating the Bible into English from the original languages (Wycliffe had translated from the Latin Vulgate). His work in this...
---
(1895, 2 volumes)
Author: P. Hume Brown

Hardback ... $29.00 USD ($69.00) You Save 58%


Brown says of Knox, "It would, indeed, be difficult to name another historical personage who in such degree as Knox revealed a nation's genius to itself, and at once vitalized...
---
Paperback ... $19.50 USD


"In the mountains of West Virginia, in the poor Appalachian region, lay dying an old-fashioned, circuit-riding Methodist preacher by the name of Dr. Jake Ball." So begins the...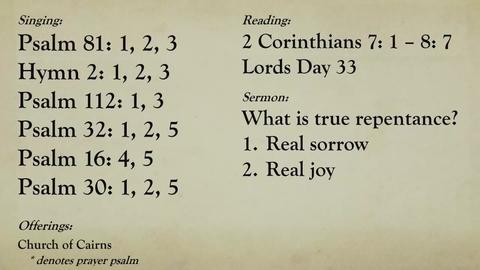 Rockingham, Western Australia
Free Reformed Church Rockingham
Pastor John MacArthur
Grace to You