Late Evangelist Rolfe Barnard | Charlotte, North Carolina

| | |
| --- | --- |
| | |



DOES THIS OFFEND YOU? β€" Radio Message by Rolfe Barnard

WE GIVE SEVERAL WEB LINKS, BUT WE CANNOT VOUCH FOR ALL THAT IS ON THESE OUTSIDE SITES β€" ONLY FOR THE MATERIAL REFERENCED. At this site you can read one of Rolfe Barnard's outstanding radio messages. Based on John chapter 6, the evangelist-teacher shows what Gospel truths are most offensive...




WHAT IS IT TO PREACH THE GOSPEL? β€" Sermon by Henry Mahan

What is and what is not TRUE GOSPEL preaching? In our day there are many false answers. Most people accept almost any preaching as Gospel. What saith the Bible? Here Brother Henry Mahan, longtime pastor in Ashland, KY, gives the correct discrimination.




A Brief Biography of Rolfe Barnard

Here is John Thornbury's brief biographical writing on the life and ministry of ROLFE BARNARD. Read it and then write to us. Continue listening to the sermons of our beloved Brother Barnard here on SermonAudio.




Sermons of Charles D. Alexander on Sermon Audio

IT IS A BLESSING TO HEAR THIS GREAT MAN OF GOD β€" a man whose messages in print have helped us greatly. While this dear man, Bro. Charles D. Alexander, has gone on to glory, his works remain. Hear some of these great messages by a man who was deep in the Word and a man whose ministry God honored in...




PASTOR HENRY MAHAN'S AUDIO SERMONS

Henry Mahan of Ashland KY was almost a lifetime associate with Brother Rolfe Barnard. Here it is possible to hear many of Mahan's Christ-honoring sermons. No easy-believism here! Hear them and download them to share with others.




Freely We Give Broadcast

At this site you will find many of the simple radio talks of the late G. D. FULTON. Mr. Fulton was a working man, not a regular preacher, but he knew the LORD, loved the WORD, and wanted to tell people the TRUTH. It was his conviction that most modern religion has missed Christ.




ROMANS: A Commentary or Exposition, by Brother Lynn Connell

Here is Brother Lynn Connell's beginning materials for a new, complete verse-by-verse commentary on Paul's Epistle to the Romans. We believe in this work, for its author/compiler is a longtime friend of the ministry of Evangelist Rolfe Barnard.




Mountain Professor

Information galore for those who admire God's great creation β€" especially the wonderful mountain ranges our Lord has created all over the world. A good website for those who would like to visit some of these phenomenal mountains! Source for research material for students at all levels.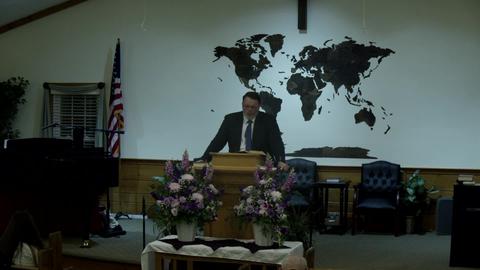 South Kingstown, RI
Curtis Corner Baptist Church
Dennis Prutow
Westminster Evangelistic...