6,028 active users!!
| | | |
| --- | --- | --- |
| | BROADCASTER DIRECTORY BY NAME | JOIN NOW | |
| | |
| --- | --- |
| | Baring Baptist Church is a small country church located in Baring, Maine. Our church was built in the early 1800's, and the doors have been opened ever since! We are a small congregation (20-30 is the average attendance), but we love the Lord and we love our town. Our c... |
| | |
| | The founders' purpose was to hold tight to the precious truths of the Word of God which had been recaptured by our Protestant forefathers. This heritage of Evangelical, Reformed, and Baptist theology forms the basis for who we are as a church family.... |
| | |
| | The Orthodox Presbyterian Church is a denomination founded in 1936 by missions-minded Presbyterians committed to the inspiration and authority of Scripture, the sovereignty of God in all things, and the mandate to go into all the world with the gospel.... |
| | |
| | The most important thing about Pilgrim OPC is our commitment to the Scriptures of the Old and New Testaments as the inspired Word of God, the only infallible rule of faith and life for Christians and the Christian Church.... |
| | |
| | Welcome to Poland Baptist Church. We are a Christ-centered, Bible-believing, Gospel preaching fellowship. We desire to honor the Lord in our lives and make His word known to others, both locally and abroad. As our church constitution states: "The purpose of this corpora... |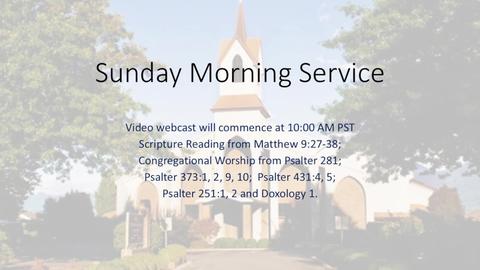 Chilliwack, British Columbia, Canada
Bethel Netherlands Reformed Congregation
Mark S. Wisniewski
Ni Una Pezuña


Especial - Spanish
Iglesia Nueva Obra en...