6,738 active users!!
| | | |
| --- | --- | --- |
| | BROADCASTER DIRECTORY BY NAME | JOIN NOW | |

We praise God for sending you to our web site! Our prayer is that through the services and ministries of this church you will grow in your relationship with our Lord Jesus Christ. We sincerely pray that you may experience the abundant life that God has made available to...

We accept, as the fullest and most cohesive expression of our faith, the historic 1689 London Baptist Confession of Faith. However, in so doing, we affirm that the ultimate authority in all matters of faith, order, and morals is, and must ever be the Bible alone, as art...

We're delighted that you would stop by to take a look at our Web Site. As you navigate through these pages- you will find out quite a bit about us- Who we are; What we Believe and Teach; Our view of God and each other; and what we hope to accomplish here on the Mississi...

At Faith Bible Church, it is our conviction that God's Word, the Bible, is inspired, inerrant, sufficient and authoritative. This conviction drives us to shape our theology, practices and worship solely on the basis of what God's Word has to say about a subject instead ...

We are a gospel-centered and Bible-driven church that has been in the heart of Matawan, NJ since 1850. Jesus is our Savior, our treasure, our joy, and our goal. We would love to have you join us....

We are an independent Christian church locally governed by a plurality of elders who are equal in authority and mutually accountable. We are a founding member of F.I.R.E., a unifying network for independent reformed (and reforming) baptistic churches to experience mutua...

FIRE (Fellowship of Reformed Evangelicals), reformed, baptistic, NANC, Grace Biblical Counseling Ministries...

Our mission is to proclaim the whole counsel of God for the discipleship of Christ's body, for the salvation of the lost, and for the glory of the Triune God whom we worship....

IEG BarcelonaDavid Barcelo | Barcelona, Spainwww.sermonaudio.com/iegracia


La Iglesia Evangélica de la Gracia en Barcelona es una iglesia sólida en doctrina y cálida en comunión. Una familia espiritual e internacional que anuncia el mensaje de la Gracia de Dios en la ciudad de Barcelona. ¡Serás muy bienvenido! Que Dios te bendiga. [email protected]

Juanita is an evangelical Reformed Baptist church near Seattle, Washington. We embrace the London Baptist Confession of Faith (1689) as a summary of what we believe the Scriptures teach. Juanita is a member of FIRE, the Fellowship of Independent Reformed Evangelicals (h...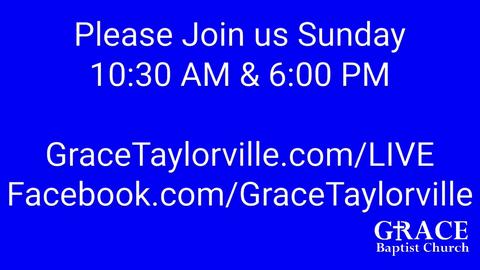 Taylorville, IL
Grace Baptist Church
Rev. Colin Mercer
Faith Free Presbyterian...

Come Worship with Us - Curr­ent Sermon Ser­ies: Who is Jesus?
https: