Breaking News
All | Prayer | Religion | Society | Tech | Choice | SA Newsroom
Time Person of the Year: Joe Biden and Kamala Harris
To get past the stage-door entrance of the Queen theater, you need a negative COVID-19 test and a particular type of N95 mask. You have to promise not to eat or drink inside, and answer a questionnaire about your recent whereabouts, and then comes the Secret Service protocol (the sweep, the wands). Once you're in, the floors normally sticky with spilled drinks are instead dotted with distance-marking tape for reasons that are obvious: this is where President-elect Joe Biden is basing his transition, and President-elect Biden takes COVID-19 very, very seriously.

"They told me we were gonna lose the campaign because of all this, remember?" Biden says in a Dec. 7 interview, gesturing at the precautions from a brown leather chair in a room above the stage. But "the good news," Biden smiles, is he and his team "didn't listen to anybody." ...
| | | |
| --- | --- | --- |
| · Page 1 · Found: 38 user comment(s) | | |
System Notice

SermonAudio.com

This forum thread has been closed by SermonAudio.
No further comments are permitted for this news item.
12/16/2020 4:59 AM

| | | | | |
| --- | --- | --- | --- | --- |
| Jim Lincoln | | Nebraska | | | |
12/13/2020 8:36 PM

| | | | | |
| --- | --- | --- | --- | --- |
| James Thomas | | Fla | | | |
12/12/2020 7:13 PM

| | | | | |
| --- | --- | --- | --- | --- |
| Dr. Tim | | Way Down Yonder | | | |
12/12/2020 6:08 PM

| | | | | |
| --- | --- | --- | --- | --- |
| Jim Lincoln | | Nebraska | | | |
12/12/2020 3:25 PM

| | | | | |
| --- | --- | --- | --- | --- |
| Dr. Tim | | Way Down Yonder | | | |
12/12/2020 3:11 PM

| | | | |
| --- | --- | --- | --- |
| Brian from the Deep South | | | |
12/12/2020 2:11 PM

| | | | |
| --- | --- | --- | --- |
| Brian from the Deep South | | | |
12/12/2020 1:30 PM

| | | | | |
| --- | --- | --- | --- | --- |
| Jim Lincoln | | Nebraska | | | |
12/12/2020 12:43 PM

| | | | | |
| --- | --- | --- | --- | --- |
| Chrisgp from England | | England | | | |
12/12/2020 11:17 AM

| | | | | |
| --- | --- | --- | --- | --- |
| Mike | | New York | | | |
12/12/2020 10:05 AM

| | | | | |
| --- | --- | --- | --- | --- |
| Jim Lincoln | | Nebraska | | | |
12/12/2020 8:34 AM

| | | | | |
| --- | --- | --- | --- | --- |
| Chrisgp from England | | England | | | |
12/12/2020 7:58 AM

| | | | | |
| --- | --- | --- | --- | --- |
| Chrisgp from England | | England | | | |
12/12/2020 2:45 AM

| | | | | |
| --- | --- | --- | --- | --- |
| Jim Lincoln | | Nebraska | | | |
12/12/2020 2:07 AM

| | | | | |
| --- | --- | --- | --- | --- |
| Jim Lincoln | | Nebraska | | | |
12/11/2020 6:52 PM

| | | | | |
| --- | --- | --- | --- | --- |
| Mike | | New York | | | |
12/11/2020 6:29 PM

| | | | |
| --- | --- | --- | --- |
| Brian from the Deep South | | | |
12/11/2020 5:26 PM

| | | | | |
| --- | --- | --- | --- | --- |
| Jim Lincoln | | Nebraska | | | |
12/11/2020 2:47 PM

| | | | |
| --- | --- | --- | --- |
| Adriel | | | |
12/11/2020 12:40 PM

| | | | | |
| --- | --- | --- | --- | --- |
| Uncle Sam | | North Central Texas | | | |
| | |
| --- | --- |
| There are a total of 38 user comments displayed | |
| | | |
| --- | --- | --- |
| Jump to Page : [1] 2 | last | | |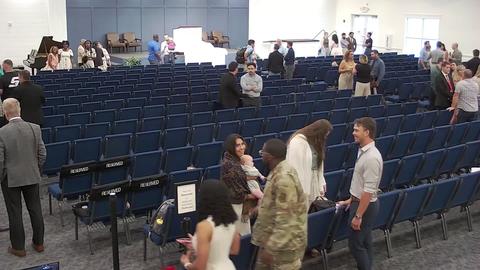 Coconut Creek, FL
Emmanuel Baptist Church
Dr. Mark Allison
FPC of Malvern