Breaking News
All | United Prayer | SA Center | SA Newsroom
Court vacancy puts spotlight on abortion again
A sudden vacancy on the U.S. Supreme Court has thrust abortion even further into the spotlight for a deeply divided country facing a divisive election.

Southern Baptist leaders called for prayer for government authorities even as another forecast an "epic battle" for the high court and the White House.

Associate Justice Ruth Bader Ginsburg, 87, died Friday (Sept. 18) of complications from metastatic cancer after 27 years on the high court. Nominated by President Clinton and confirmed by the Senate in 1993, she received in her death high praise as a justice and colleague from both conservatives and liberals on the high court. ...
| | | |
| --- | --- | --- |
| · Page 1 · Found: 23 user comment(s) | | |
System Notice

SermonAudio.com

This forum thread has been closed by SermonAudio.
No further comments are permitted for this news item.
9/27/2020 10:31 AM

| | | | | |
| --- | --- | --- | --- | --- |
| Mark Blades | | Czechia | | | |
9/26/2020 6:57 AM

| | | | | |
| --- | --- | --- | --- | --- |
| Joe USA | | USA | | | |
9/25/2020 3:27 PM

| | | | | |
| --- | --- | --- | --- | --- |
| Jim Lincoln | | Nebraska | | | |
9/25/2020 2:59 AM

| | | | |
| --- | --- | --- | --- |
| John UK | | | |
9/25/2020 2:01 AM

| | | | | |
| --- | --- | --- | --- | --- |
| Jim Lincoln | | Nebraska | | | |
9/24/2020 6:49 PM

| | | | |
| --- | --- | --- | --- |
| Ladybug | | | |
9/24/2020 4:43 PM

| | | | | |
| --- | --- | --- | --- | --- |
| Dr. Tim | | Way Down Yonder | | | |
9/24/2020 2:11 PM

| | | | | |
| --- | --- | --- | --- | --- |
| Jim Lincoln | | Nebraska | | | |
9/24/2020 1:35 PM

| | | | |
| --- | --- | --- | --- |
| John UK | | | |
9/24/2020 10:20 AM

| | | | | |
| --- | --- | --- | --- | --- |
| Dr. Tim | | Way Down Yonder | | | |
9/24/2020 9:53 AM

| | | | |
| --- | --- | --- | --- |
| John UK | | | |
9/24/2020 9:00 AM

| | | | | |
| --- | --- | --- | --- | --- |
| Dr. Tim | | Way Down Yonder | | | |
9/24/2020 8:28 AM

| | | | | |
| --- | --- | --- | --- | --- |
| Mike | | New York | | | |
9/24/2020 7:20 AM

| | | | | |
| --- | --- | --- | --- | --- |
| Chrisgp from England | | England | | | |
9/24/2020 2:36 AM

| | | | | |
| --- | --- | --- | --- | --- |
| Jim Lincoln | | Nebraska | | | |
9/24/2020 1:00 AM

| | | | | |
| --- | --- | --- | --- | --- |
| Chrisgp from England | | England | | | |
9/23/2020 4:18 PM

| | | | | |
| --- | --- | --- | --- | --- |
| Mike | | New York | | | |
9/23/2020 3:33 PM

| | | | | |
| --- | --- | --- | --- | --- |
| Jim Lincoln | | Nebraska | | | |
9/23/2020 9:39 AM

| | | | | |
| --- | --- | --- | --- | --- |
| Mike | | New York | | | |
| | |
| --- | --- |
| There are a total of 23 user comments displayed | |
| | | |
| --- | --- | --- |
| Jump to Page : [1] 2 | last | | |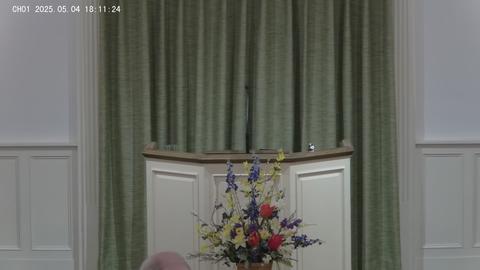 Upton, MA
Immanuel Chapel OPC