Breaking News
All | Prayer | Religion | Society | Tech | Choice | SA Newsroom
Bible translation hits unprecedented levels
Bruce Smith, the leader of the international organization renowned for translating the Bible in dozens of languages, announced that his group has been working at full capacity to get the Word of God out in never-before-seen numbers.

He went on to explain that interest in Bible translation around the world has "gone viral."

Due to Wycliffe's new strategies, methods, tools and resources, the Bible-translating organization has seen 193 completed New Testaments in the past three years alone.
|

FOCUS

| Audio commentaries on this news item | more..

Preparing for the Supper • 20+

Mark Wright |

Unity Presbyterian Church

Saved From Death • 80+

John Pistorius |

John Pistorius, Pastor

Play! | RSS
| | | |
| --- | --- | --- |
| · Page 1 · Found: 118 user comment(s) | | |
System Notice

SermonAudio.com

This forum thread has been closed by SermonAudio.
No further comments are permitted for this news item.
3/11/18 10:24 PM

| | | | | |
| --- | --- | --- | --- | --- |
| Jim Lincoln | | Nebraska | | | |
3/11/18 9:05 PM

| | | | | |
| --- | --- | --- | --- | --- |
| Ignominious Emirakan | | Dan ten twenty one | | | |
3/11/18 5:13 PM

| | | | | |
| --- | --- | --- | --- | --- |
| Jim Lincoln | | Nebraska | | | |
3/11/18 2:32 PM

| | | | | |
| --- | --- | --- | --- | --- |
| Ignominious Emirakan | | etymol history | | | |
3/11/18 1:45 PM

| | | | | |
| --- | --- | --- | --- | --- |
| Jim Lincoln | | Nebraska | | | |
3/11/18 7:57 AM

| | | | | |
| --- | --- | --- | --- | --- |
| Ignominious Emirakan | | pot age pottage | | | |
3/11/18 7:37 AM

| | | | | |
| --- | --- | --- | --- | --- |
| Jim Lincoln | | Nebraska | | | |
3/11/18 7:25 AM

| | | | | |
| --- | --- | --- | --- | --- |
| Ignominious Emirakan | | Ecclesiastes seven | | | |
3/11/18 5:58 AM

| | | | | |
| --- | --- | --- | --- | --- |
| Jim Lincoln | | Nebraska | | | |
3/10/18 8:59 PM

| | | | | |
| --- | --- | --- | --- | --- |
| Ignominious Emirakan | | Drifting | | | |
3/10/18 6:58 PM

| | | | | |
| --- | --- | --- | --- | --- |
| Jim Lincoln | | Nebraska | | | |
3/10/18 4:49 PM

| | | | | |
| --- | --- | --- | --- | --- |
| Ignominious Emirakan | | David Cloud book | | | |
3/10/18 3:39 PM

| | | | | |
| --- | --- | --- | --- | --- |
| Ignominious Emirakan | | calculating skip | | | |
3/10/18 3:31 PM

| | | | | |
| --- | --- | --- | --- | --- |
| Jim Lincoln | | Nebraska | | | |
3/10/18 2:48 PM

| | | | | |
| --- | --- | --- | --- | --- |
| Ignominious Emirakan | | Simonides Aleph over Calvin | | | |
3/10/18 1:21 PM

| | | | | |
| --- | --- | --- | --- | --- |
| Ignominious Emirakan | | Whitewashers tombs | | | |
3/10/18 12:25 PM

| | | | | |
| --- | --- | --- | --- | --- |
| Jim Lincoln | | Nebraska | | | |
3/10/18 10:06 AM

| | | | | |
| --- | --- | --- | --- | --- |
| Ignominious Emirakan | | Dean Burgon season | | | |
3/10/18 8:40 AM

| | | | | |
| --- | --- | --- | --- | --- |
| Ignominious Emirakan | | 4th last quarter | | | |
3/10/18 7:39 AM

| | | | | |
| --- | --- | --- | --- | --- |
| Ignominious Emirakan | | Station verification | | | |
| | |
| --- | --- |
| There are a total of 118 user comments displayed | |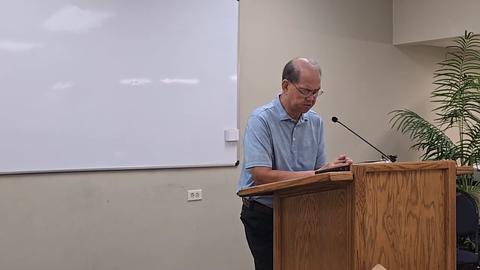 Honolulu, HI
Independent Baptist Church Honolulu