Breaking News
Home | All | Religion | Society | Tech | Choice | SA Newsroom
Feedback Friday for 11-03-17
'ÄúO God, thou art my God; early will I seek thee: my soul thirsteth for thee, my flesh longeth for thee in a dry and thirsty land, where no water is;'ÄĚ (Psalm 63:1). Few other psalms depict an earnest devotion for God like this one. Don't miss the setting for this psalm! David was at one of the lowest points in his life in one of the most barren places on earth. Here David desired God more than anyone else and more than anything else. How fervent is your love for God? How strong are your cravings for Him? How focused are your desires on Him? James Boice commented, 'ÄúMost people. . .are seeking satisfaction in other things. Others know God but do not cultivate his presence; they do not long after him. Is it not this above everything that explains the weakness of the contemporary church? Is it not this that makes us so hollow spiritually?'ÄĚ Let David's example spur you on to a greater devotion for seeking of and satisfaction in God!
Our broadcasters encourage us often when they let us know what a blessing SermonAudio is to them and others. Here are some of the comments they have shared with us in recent weeks.
But first, some other encouragements!
Broadcasters of SA! We're hosting a Pastors Appreciation Luncheon in the Greenville SC area Tue Nov 7 11:45am-12:45pm. www.sermonaudio.com/go/up
Encouraging broadcaster feedback..
Below is some of the feedback from broadcasters we've received just this past week. We encourage you to contact them and tell them that you saw them here!

Derek Melton, Grace Life Church of Pryor
www.sermonaudio.com/gracelifepryor"ermonAudio provides a great way to record and reproduce sermons using modern technology. Technology, such as the internet, has its bad and its good uses, but SermonAudio is one of those great tools that helps facilitate the spreading of God's Word. It's a wonderful ministry that helps churches of all sizes, but especially small churches, be able to store their messages for others to access. Homebound saints as well as those that have to miss a service due to work or sickness access our messages. We also receive occasional feedback/emails from those who are outside of our own community. This is a great ministry and a tremendous tool to every church that uses SermonAudio. Thank you for all you are doing."
Rev. Brian De Jong, Grace Orthodox Presbyterian
www.sermonaudio.com/gracesheboygan"We are delighted with SermonAudio and think it is a valuable way to reach our community and the rest of the world with preaching of the Word. I use the site personally, especially when I am traveling. I can download sermons in advance and then listen to them as I am driving. When I am doing research for sermons and want to find out how others have handled the text, I often will go to SermonAudio to listen to a few other pastors on the site. Personally, one of our children has married and now moved to another country and so SermonAudio is a way she can continue to stay connected with us and hear the Word regularly. One other blessing we have received from SermonAudio is that it allows us to share messages from conferences our church hosts. For example, every year we hold a Reformation Conference, and we are able to quickly share the great content with others in our own denomination as well as with those that want to listen on SermonAudio. Thanks for the good service you offer us!"
Pastor Justin Pierce, Grace Life Church Tri~Cities
www.sermonaudio.com/grbc-blountville"What I love about SermonAudio is the outreach! It blows my mind that we are able to connect with listeners all around the world. I regularly receive texts, emails and phone calls from places I have never been and will probably never be able to visit. I had an hour and a half conversation with someone from Canada looking for a local church. I've had contact with folks in Iraq, Saudia Arabia, South Korea, and the Philippines as well as elsewhere. It's rather shocking to me. This is an incredible tool for impacting lives through preaching and teaching. Keep in mind we are a small church but this partnership allows us to have an impact far beyond our size!"
Jeff Young, Grace Reformed Baptist Church
www.sermonaudio.com/grbcbonham"SermonAudio is such a fantastic help to our church. We always have members who are absent for various reasons on the Lord's Day and they are so devoted to the Word that they want to listen to the sermons they miss. Compared to the old methods of duplicating cassettes or burning CDs, simply taking five minutes to upload a sermon that is instantly available to everyone is remarkable! I also belong to an association of churches and I enjoy being able to listen and learn from the other pastors in our association. Having people depend on having quick access to our sermons and resources has been so helpful in making more disciplined in getting the material uploaded. One final way that SermonAudio has helped us is that nearly everyone who visits our church has first listened to a few messages on SermonAudio before attending. We are so pleased with the many ways in which you have helped us. Keep being faithful at what you are doing!"
We would encourage you to read through more testimonials we've received over the years from both listeners and broadcasters alike.

Join us, support us, and enjoy the stories!
| | | | | | |
| --- | --- | --- | --- | --- | --- |
| | | | | | |
MORE RELATED ( SERMONAUDIO ) NEWS | MORE..
· Page 1 · Found: 1 user comment(s)
| | | |
| --- | --- | --- |
| | Last Post | Total |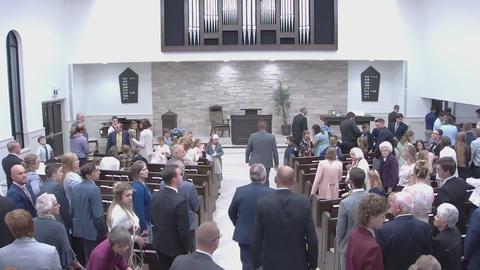 Dunnville, Ontario
Grace Reformed Church