Breaking News
All | United Prayer | SA Center | SA Newsroom
Police Threatening Man Displaying a 'John 3:16' Sign
Attorneys for The Rutherford Institute have filed a First Amendment lawsuit against police officers who allegedly intimidated and threatened to arrest a man who was lawfully and peacefully exercising his First Amendment rights prior to a Giants v. Dodgers game by holding up a 'ÄúJohn 3:16'ÄĚ religious sign in the public plaza in front of the San Francisco Giants ballpark.

In filing suit in the U.S. District Court for the Northern District of California on behalf of Gino Emmerich, Rutherford Institute attorneys charge that police officers violated Emmerich'Äôs right to free speech and assembly when they forcefully removed him from Willie Mays Plaza, surrounded him and threatened him with arrest if he did not cease displaying his 'ÄúJohn 3:16'ÄĚ sign. Institute attorneys point out that Emmerich was in no way causing a disruption in the plaza, the baseball stadium known as 'ÄúAT&T Park,'ÄĚ or any other business or ...
| | | | | | |
| --- | --- | --- | --- | --- | --- |
| | | | | | |
· Page 1 · Found: 19 user comment(s)
System Notice

SermonAudio.com

This forum thread has been closed by SermonAudio.
No further comments are permitted for this news item.
7/16/15 11:47 PM

| | | | | |
| --- | --- | --- | --- | --- |
| Jessica Dawson | | Canada | | | |
7/16/15 8:05 AM

| | | | | |
| --- | --- | --- | --- | --- |
| Mike | | New York | | | |
| | |
| --- | --- |
| 7/15/15 10:36 PM | |
| | |
7/14/15 12:26 PM

| | | | | |
| --- | --- | --- | --- | --- |
| Christopher000 | | Rhode Island | | | |
7/14/15 11:14 AM

| | | | | |
| --- | --- | --- | --- | --- |
| John Yurich USA | | USA | | | |
7/14/15 1:15 AM

| | | | | |
| --- | --- | --- | --- | --- |
| Shane | | Socal | | | |
7/13/15 6:22 PM

| | | | | |
| --- | --- | --- | --- | --- |
| Dave | | oz | | | |
7/13/15 4:04 PM

| | | | | |
| --- | --- | --- | --- | --- |
| James Thomas | | Florida | | | |
7/13/15 3:35 PM

| | | | | |
| --- | --- | --- | --- | --- |
| Mike | | New York | | | |
7/13/15 12:13 PM

| | | | |
| --- | --- | --- | --- |
| B. McCausland | | | |
7/13/15 11:07 AM

| | | | | |
| --- | --- | --- | --- | --- |
| John Yurich USA | | USA | | | |
7/13/15 10:40 AM

| | | | | |
| --- | --- | --- | --- | --- |
| s c | | Oh | | | |
7/13/15 9:48 AM

| | | | | |
| --- | --- | --- | --- | --- |
| Mike | | New York | | | |
7/13/15 8:41 AM

| | | | | |
| --- | --- | --- | --- | --- |
| Dave | | oz | | | |
7/13/15 7:54 AM

| | | | | |
| --- | --- | --- | --- | --- |
| Dave | | oz | | | |
7/13/15 7:54 AM

| | | | | |
| --- | --- | --- | --- | --- |
| Christopher000 | | Rhode Island | | | |
7/13/15 6:08 AM

| | | | | |
| --- | --- | --- | --- | --- |
| John UK | | Wales | | | |
7/13/15 1:14 AM

| | | | | |
| --- | --- | --- | --- | --- |
| Wayfairer pilgrim | | Lubbock,tx | | | |
7/13/15 12:52 AM

| | | | | |
| --- | --- | --- | --- | --- |
| Dave | | oz | | | |
| | |
| --- | --- |
| There are a total of 19 user comments displayed | |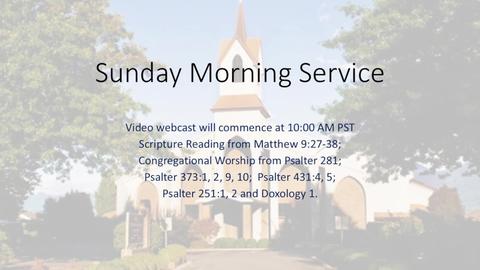 Chilliwack, British Columbia, Canada
Bethel Netherlands Reformed Congregation