5,868 active users!!
---
Hardback ... $29.99 USD


Este proyecto es el resultado de un Estudio Bíblico conducido por el autor en Español semanalmente. El autor ha predicado el Evangelio a gente de habla hispana por mas de 45 años....
---
Author: Prof. Herman Hanko

Hardback ... $37.95 USD


Today the central doctrine of the Reformation—justification by faith alone—is under attack, even by many in historically Reformed and Presbyterian denominations. Under the guise...
---
Ordained of God
Author: Neil Phelan Jr.

Paperback ... $17.49 USD


This book concerns the loving care that churches should exercise toward their pastors, and elders. The financial support of the ministry is a recurring theme in every...
---
Gospel of John Greek/English Interlinear Vol#1
Compiled By: Dr. James M. Phillips

Multi-Volume Book Set ... $29.00 USD ($45.00) You Save 36%


This is the First volume of the Gospel of John Greek/English interlinear and Commentary written by Dr. James M Phillips. This Interlinear and Commentary is being used in one of...
---
Paperback ... $1.75 USD


Descriptions and photos of the seven ancient and modern wonders of the world as an introduction to consider the wonders of God: Creation, Providence, Scripture, Christ, Cross,...
---
Exodus Hebrew/English Interlinear & Commentary 1
Compiled By: Dr. James M. Phillips

Multi-Volume Book Set ... $45.00 USD


This is Dr. James M Phillips latest Hebrew/English Commentary on the book of Exodus We Elleh Shamot. This is Volume 1 of this set of Hebrew reading and research classes that Dr....
---
Genesis Hebrew/English Interlinear vol # 2
Compiled By: Dr. James M. Phillips

Paperback ... $35.00 USD


This is volume # 2 of Dr. Phillips Hebrew /English Interlinear and commentary covering Genesis 12:1- 24:16 This interlinear & commentary cross references each Hebrew word to Brown...
---
Bible Believer's Study Course
Author: David Walker

Paperback ... $9.95 USD


The Bible Believer's Study Course is a resource to help Christians better understand the Bible. It is based on the KJV and arranged as a workbook. Lessons include: Introduction to...
---
Paperback ... $12.95 USD


Follow the life of David in this volume two biography that is full of adventure and courage. David was a man after God's own heart. This full-length book provides great...
---
Paperback ... $12.95 USD


A revolution back to the Bible brings us face to face with the command of our Lord Jesus Christ to go into "all the world, and preach the gospel to every creature."...
---
Mark 5 Healing Woman Raising Daughter of Jairus
Author: John D. Reuther

Paperback ... $1.50 USD


This study explores the twin miracles of raising the daughter of Jairus and healing the woman with the issue of blood. Five marks of Christ's love are explored: He is Willing, He...
---
A Practical Study of Jonah with Questions
Author: William Boekestein

$2.99 USD


The connection between Jonah and us is not immediately obvious. Probably partly because people have such a hard time relating to the main character Jonah has often been dubbed a...
---
Produced By: Scott T. Brown

Paperback ... $9.95 USD


As a companion to the DVDs on the Second London Baptist Confession of 1689 (SLBC), this study guide provides a framework to encourage family discipleship, education, and learning....
---
Verse by Verse Commentary on I Thessalonians
Author: Dr. Lance T. Ketchum

Paperback ... $8.95 USD


"For any pastor and local church that aspires to reproduce church members after the pattern of New Testament Christianity, Dr. Lance Ketchum's 'Models of Ministry' will be a rich...
---
A study of Jude
Author: Clarence Sexton

Paperback ... $12.95 USD


In this day when even the most fundamental teachings of our faith are under intense assault by the forces of darkness, this study of the book of Jude rings with a fresh urgency....
---
The Book of Revelation (PDF zip file)
Published By: New Testament Reformation Fellowship

Free!


Discussion Guide & Commentary for the Book of Revelation. Our goal in creating these teaching notes is to help you lead a discussion of Revelation. There are thought-provoking...
---
Two Volumes
Author: William De Burgh

Hardback ... £28.00 GBP


Critical, Devotional and Prophetical: with the Text of the Authorised Version, Metrically Arranged, according to the Original Hebrew. "A second-advent interpreter, and one of the...
---
A study of Habbakuk
Author: Clarence Sexton

Paperback ... $12.95 USD


Revival is a new beginning of obedience to the Word of God and obedience involves the people of God. We have no greater need in our land than the need for revival. The book takes...
---
A study of Psalm 38-50
Author: Clarence Sexton

Paperback ... $12.95 USD


A beautiful full-length Bible study book is published for each thirteen-week series. After reading and marking the Scripture passages which correspond to the lesson, the teacher...
---
Paperback ... $11.99 USD


Christians should always be ready to present the reason for the hope that we have in Christ. However, this is completely different than attempting to win people with arguments and...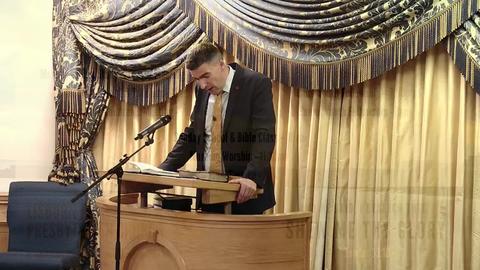 Lisburn, N. Ireland
Lisburn Free Presbyterian Church
Dr. Derek W. H. Thomas
A Great Invitation


Isaiah: Strength for the Weary
First Presbyterian Church