5,670 active users!!
---
Their Cause, Number, Character, Furniture and Special Work (1859)
Author: David Steele

Hardback ... $14.00 USD ($29.00) You Save 52%


This is a great companion volume to Steele's Notes on the Apocalypse. Here Steele zeros in on and works primarily from the text of Revelation 11:13, "I will give power unto my two...
---
A Exposition and Appraisal
Author: Dr. Dennis J. Prutow

eBook: Win+Mac ... Free!


From a study of Matthew 12:22-32, 1 John 5:16-16, and Hebrews 6:4-6, the unpardonable sin is a single sin, quite visible to the unaided eye, committed only by professing...
---
Seventeenth Century Ecclesiology For Today
Author: Dr. Richard Bacon

Paperback ... $5.00 USD ($12.95) You Save 61%


In this examination of seventeenth century ecclesiology (i.e. the Puritans and 2nd Reformation Scots), Dr. Bacon demonstrates that the idea of "home-churching" has no basis in the...
---
Including the Covenants, Catechisms, etc.
Author: Westminster Divines

Hardback ... $29.95 USD ($49.95) You Save 40%


"The product of Puritan conflict," stated Shedd, reaching "a perfection of statement never elsewhere achieved." "All that learning the most profound and extensive, intellect the...
---
Paperback ... Free!


"My Father worketh hitherto, and I work," Jesus once declared to the unbelieving Jews at a feast in Jerusalem (John 5:17). Everything that the Father works, He works through the...
---
(2 volumes)
Author: George Gillespie

Hardback ... $34.00 USD ($65.00) You Save 48%


Gillespie was one of the Scottish commissioners to the Westminster Assembly. He was one of the greatest theologians of all time -- almost singlehandedly steering this august...
---
(1858)
Author: Hugh Binning

Hardback ... $29.00 USD ($79.00) You Save 63%


This volume consists of a series of magisterial addresses on the Common Principles of the Christian religion, a series of 40 sermons on Romans 8 entitled "The Sinner's Sanctuary",...
---
Hardback ... $149.00 CAD ($299.00) You Save 50%


Here is a chance to touch the flame that ignited whole nations for covenanted Reformation. John Knox is considered by many to have been the most biblically consistent and...
---
Author: Malcolm Watts & David Silversides

Paperback ... £2.95 GBP


Three Addresses given at the first conference at Emmanuel Church, Salisbury in 1997. 1. 'The Importance of Purity of Worship' by Malcolm Watts. Worship is the human response to...
---
Bibliology from an Independent Baptist Perspective
Author: Stephen Baker

Paperback ... $6.99 USD


THE WRITTEN WORD is part of a growing series on doctrine from an Independent Baptist perspective. The aim of this book is to present a college-level course on Bibliology in an...
---
eBook: Win+Mac ... $2.99 USD


In The Written Word you will read the amazing story of how God's Word originally came to man, how it was preserved over the centuries, and how it has been translated into the...
---
Paperback ... $15.00 USD


For centuries the Christian church did not question the Genesis account of creation. However, with the rise of Darwinism in the 19th Century, the biblical doctrine of creation...
---
STRAIT GATE PUBLICATIONS E-Book
Author: Halyburton, Thomas (1674-1712)

eBook: Adobe ... Free!


A revision of the "Introductory Chapter" to Halyburton's THE GREAT CONCERN OF SALVATION (1721). This modernized presentation is designed for the use of Gospel Ministers, Church...
---
Man's Heart Held Captive
Author: John M. Otis

Pamphlet/Tract ... $3.00 USD ($5.00) You Save 40%


This is book two in the Defending Calvinism Series. This booklet contains the same method of training found in Book 1 of the series - God's Sovereignty: Who's in control - God or...
---
Principles of The Reformed Outlook
Author: Richard Bacon and Gary Crampton

Paperback ... $7.95 USD


This booklet examines whether there is a biblical worldview and what that worldview is. The authors maintain that the Bible not only teaches that there is a Christian worldview,...
---
Pamphlet/Tract ... Free!


We refuse to take the course most current writers have in relation to the phenomenon of glossolalia and group all tongue speaking as if it were the same. We have no desire to...
---
Author: Prof. David Engelsma

Pamphlet/Tract ... Free!


The eight essays on marriage, divorce, and remarriage in this booklet appeared originally as editorials in the Reformed magazine, the Standard Bearer. In certain, important...
---
Paperback ... $25.00 USD


Unveiling Freemasonry's Idolatry is a 600-700 page book revealing why the Masonic Lodge is truly one of the world's most dangerous and deceptive cults. This book will be the most...
---
The Pursuit of Professors J. J. vanderSchuit, G. Wisse, and L. H. vanderMeiden
Author: Rev. David Kranendonk

Paperback ... $9.00 CAD


A ground-breaking English examination of the objective-subjective dynamic in the theology of three 20th century representatives of Dutch secession theology. Part One sets them in...
---
Paperback ... $6.50 USD


"A Christ-centered tour de force which gets us into Christ's servant heart and asks the pointed questions of what that means for us who are in union with Him. Deeply and...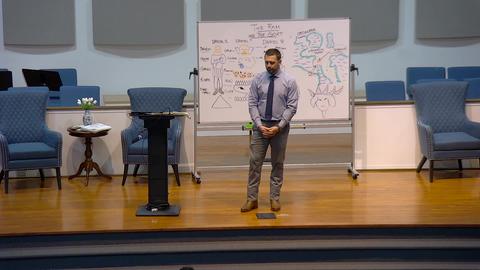 San Antonio, TX
Huisache Avenue Baptist Church
Greg Van Court
Dayspring Fellowship