6,605 active users!!
| | | |
| --- | --- | --- |
| | BROADCASTER DIRECTORY BY NAME | JOIN NOW | |

We thank you for visiting Cleveland Baptist Church on the web. Your interest indicates that you have a desire to know more about us. Please take a few moments to navigate through the pages and see for yourself what we are all about. We are a church that centers itself o...

Our purpose as a church is to glorify God by finding our fullest joy and delight in Him, and to proclaim to others that fullness of joy is found only in God as He has made Himself known through Jesus Christ, His only Son, our Lord. We seek to fulfill our purpose in thre...

Lake OPC ChurchRev. Geoffery Willour | Cleveland, Ohiowww.sermonaudio.com/ohopc2007


We are an established congregation of the Orthodox Presbyterian Church working to establish a presbyterian & reformed witness of the gospel on Cleveland's east side. We believe in Christ centered worship that is family integrated, caring covenant fellowship, life chang...

http://www.truthforlife.org Truth For Life is the Bible-teaching ministry of Alistair Begg. Our mission is to teach the Bible with clarity and relevance so that: Unbelievers will be converted; Believers will be established; and Local churches will be strengthened. Ou...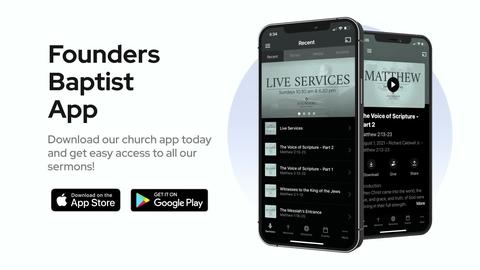 Spring, TX (Houston)
Founders Baptist Church
Vance Havner
The School of Prayer