5,824 active users!!



Psalm 101 Psalm 101
LIVERPOOL | Bible Passage

| | | |
| --- | --- | --- |
| Author: | | Scottish Psalter |
| Musician: | | ROBERT WAINWRIGHT, 1748-1782 |

1 I MERCY will and judgment sing,
Lord, I will sing to thee.
2 With wisdom in a perfect way
Shall my behaviour be.
O when in kindness unto me
Wilt thou be pleased to come?
I with a perfect heart will walk
Within my house at home.

3 I will endure no wicked thing
Before mine eyes to be;
I hate their work that turn aside,
It shall not cleave to me.
4 A stubborn and a froward heart
Depart quite from me shall;
A person given to wickedness
I will not know at all.

5 I'll cut him off that slandereth
His neighbour privily:
The haughty heart I will not bear,
Nor him whose look is high.
6 I'll mark the faithful of the land,
That they may dwell with me;
Who walketh in a perfect way
To me shall servant be.

7 Who of deceit a worker is
In my house shall not dwell;
And in my presence shall he not
Remain that lies doth tell.
8 Each morn the wicked of the land
Shall be cut off by me;
To root out from God's city all
That work iniquity.

---

BIBLE PASSAGE:

1 ¶ I will sing of mercy and judgment: unto thee, O LORD, will I sing.
2 I will behave myself wisely in a perfect way. O when wilt thou come unto me? I will walk within my house with a perfect heart.
3 I will set no wicked thing before mine eyes: I hate the work of them that turn aside; it shall not cleave to me.
4 A froward heart shall depart from me: I will not know a wicked person.
5 Whoso privily slandereth his neighbour, him will I cut off: him that hath an high look and a proud heart will not I suffer.
6 Mine eyes shall be upon the faithful of the land, that they may dwell with me: he that walketh in a perfect way, he shall serve me.
7 He that worketh deceit shall not dwell within my house: he that telleth lies shall not tarry in my sight.
8 I will early destroy all the wicked of the land; that I may cut off all wicked doers from the city of the LORD.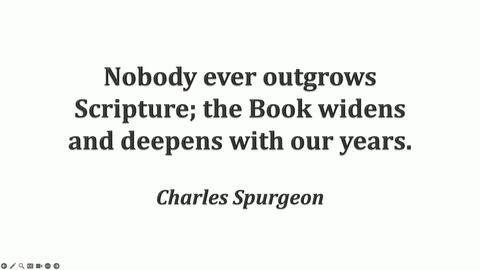 Cincinnati, OH
Truth Community Church
Dr. R. Albert Mohler, Jr.
First Baptist Church...